This morning, I received a somewhat perplexing press release from the Parker campaign. Rather than attempt to summarize the issue, I'm just going to reprint it verbatim and then offer up my comments:
Leaders representing a broad coalition of Democrats, Republicans, business groups, labor unions and civil rights organizations gathered at a press conference today to say that Ben Hall is not qualified to be mayor of Houston. Some leaders called on Hall to drop out of the race.

Lenora Sorola-Pohlman, Treasurer of the Harris County Tejano Democrats, said:

"Ben Hall should do what's right for Houston by ending his campaign for mayor. Mr. Hall hasn't lived here or voted in a city election in 11 years. Just last year he bought a house inside the city so he could run for mayor. When Houston was hurting in the recession, Hall offered no vision, no ideas, and no leadership. Now that things are good, he wants to be mayor. That's just wrong.  Mr. Hall should end this expensive campaign now so Houstonians can focus on making our city even better."

Welcome Wilson, Jr., Chairman of the Houston Realty Business Coalition, a conservative organization that promotes private property rights and conservative business principles, said:

"We often disagree on issues, but we do agree on this. If you're going to lead this city, you should have paid your dues. Mayor Parker has worked with the business community and others to lead our city through good times and bad."

C.J. Farley, president of the Bay Area New Democrats, said:

"In my part of town, we see a lot of folks who live in the suburbs but use our roads and enjoy all our amenities – while avoiding Houston taxes. That's their choice and they contribute a lot to our region. But if you really want to lead this city and help solve its problems, shouldn't you at least start by voting here? If Mr. Hall really wants to be mayor that bad, he should end this campaign and run for mayor of Piney Point, the place he called home for 11 years."

Howard Middleton, a leader of the Harris County Council of Organizations and a former officer of the Laborers International Union of North America, said:

"I live close to the Acres Homes area of Houston. We don't have a lot in common with Piney Point, where Mr. Hall has made his home for the last 11 years. I want a mayor who knows the problems we face and has been working on solutions in good times and bad."

John O'Neill, president of the "C" Club of Houston, a non-partisan organization that supports candidates who advance conservative fiscal policies, said:

"Our organization endorsed Annise Parker because we know we need her expertise now to continue the good work she has done with the city's finances.  When you see cities like Detroit and their financial problems, we're glad we have Mayor Parker at the helm of our city government. We know she will deal with the difficult financial issues like pensions."

Bert Keller, immediate Past President of the "C" Club of Houston, and former Houston City Council Member, said:

"The job of Mayor of the City of Houston is not for those with no experience.  Trash needs to be picked up.  Someone has to figure out how to do that, how many workers do you need, how many trucks should you buy, and so on.  What the Mayor of Houston does is manage the city—it's not a job for someone who doesn't know how to do that and who has not provided any policies to improve on what Annise Parker is doing."

These leaders have joined a growing chorus of Houstonians who say Ben Hall should not be Houston's mayor. The Houston Chronicle recently wrote an editorial noting Hall's choice to live in Piney Point and asking why Hall doesn't "practice what he preaches":

"Until announcing his candidacy, Hall chose to live in Piney Point Village, an extremely wealthy enclave that has the distinguishing characteristic of banning businesses while keeping property taxes at a third of the city of Houston's. In fact, by living in Piney Point, Hall essentially ensured that Houston's budget had about $12,000 less to spend every year on roads, police, firefighters and parks." – Houston Chronicle Editorial, August 20, 2013.

All of the speakers today and the groups they represent have endorsed Mayor Annise Parker for re-election.

A businesswoman, community leader and mother, Annise Parker is completing her second term as Mayor of Houston – with a strong focus on growing our local economy, keeping Houston safe and improving the quality of life for every Houstonian. Annise has also served for six years as a city councilmember and six years as controller. She worked for 20 years in Houston's oil and gas industry after graduating from Rice University and served in a variety of community leadership roles before her election to public office. Learn more at www.AnniseParker.com.
This is somewhat lengthy, and in case you don't feel like reading the entire thing (I don't blame you), the speakers consisted of representatives of the Harris County Tejano Democrats, Houston Realty Business Coalition, Bay Area New Democrats, Harris County Council or Organizations (a labour group), and the 'C' Club. The campaign also cited a recent editorial by the Houston Chronicle that took some jabs at Hall.
All of these speakers argued that Hall, for some reason, should drop out of the race. They used Parker's talking points, offering up tidbits that were painfully similar/identical to things I have previously read in Parker's press releases or heard in her commercial. For example, Sorola-Pohlman with the HCTD actually used the sentence, "When Houston was hurting in the recession, Hall offered no vision, no ideas, and no leadership. Now that things are good, he wants to be mayor." That was literally the EXACT same sentence used in the Parker's commercial.
Mike Morris with the Chronicle was at this pseudo-press conference at Parker's campaign headquarters and posted the following picture. From what it looks like, this was not a public or otherwise open event, and probably was conducted as somewhat of a surprise. Mary Benton also posted a photo from the press conference, but it is most likely was actually the same photograph.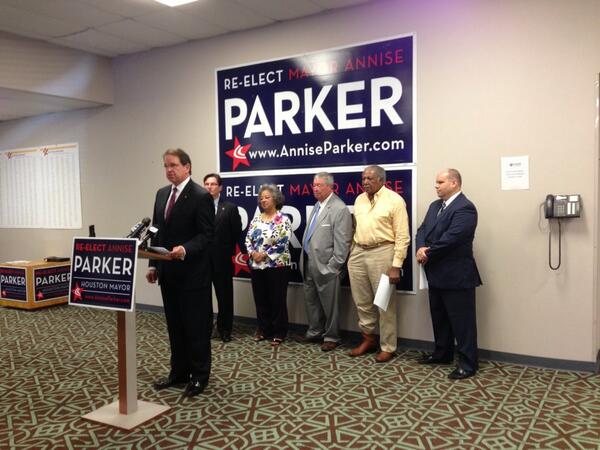 Not to be outdone, Hall's campaign immediately fired back a strongly-worded response. Julia Smekalina, Hall's press secretary, still has not included me on the press release list, so I had to learn about this via her Twitter account. It is also worth noting that Morris, when mentioning the Hall response on his Twitter account, notes that one Parker supporter used the excuse that Hall ending his candidacy would "let Mayor focus on city work." Again, for the full Hall response:
Julia Smekalina, press secretary for the Ben Hall for Mayor Campaign issued the following statement regarding Ms. Annise Parker's attempt to dictate Houston's mayoral election:

"The audacity of this career politician is astounding. Not only has Ms. Parker refused to debate all her opponents or present her vision for Houston to the voters, now she thinks she can undermine Houstonians and take away their right to a fair and transparent election.

Ms. Parker has clearly let her time in office get to her head if she thinks she has the right to dictate elections. Voters see right through her incomprehensible antics and will make sure that Ms. Parker gets a proper Goodbye Tour and not the coronation she so desperately wants.

If Ms. Parker insists on wasting everyone's time today, I recommend she at least answer some important questions Houstonians have. Such as:

(1) How did you become a millionaire while working as a public servant for 16 years?

(2) Why do Houstonians now feel less safe in their homes and neighborhoods?

(3) What is your plan to reform Houston's pension system?

(4) When do you plan on defending your record in front of Houstonians in formal, televised, and moderated debates?"
I do have to completely, undeniably agree with the Hall campaign on this issue. However, I disagree with Smekalina that "audacity" is the best word to describe the Parker campaign at this moment. "Hubris," would work a whole lot better.
The Mayor's campaign did not actually include the language that Morris referenced, so I will give them the benefit of the doubt on that issue. Indeed, most of Parker's supporters referenced in the press release mentioned Hall's residency and taxation issues. While those are certainly sincere, legitimate problems with Hall's character, the "let Mayor focus on city work" issue is not.
It would be the height of arrogance to believe that, because there is "city work" that must be done, the incumbent is given the entitlement to not have electoral opposition. It is not secret that I give the presumption of my support to friendly incumbents in all elections, and the Mayor's race is no exception, but that does not change the fact that it is an elected official's duty to defend her or his record every two/four/six years, however long the term may be.
We have officially entered the Absurd –with a capital 'A'– in the Mayoral election.
UPDATE: Morris at the Houston Chronicle wrote a full post on the topic, complete with the definitive allegation that it was the representative of the HCTD who made the troubling comment. "It's just unfortunate for (Parker) to spend this time running instead of her being at City Hall doing what she does best, and that's keeping the city straight and narrow," she said. "That just takes away her focus on taking care of the city's issues," she says.